Paint Stick Chic?
Last week I gave our master bathroom a little update. The cost? $0.
Yep, zero dollars. Just to reiterate… there's not much that will make
our master bathroom look nice other than a full gut. The floor tiles
are ugly, the shower tiles are uglier, the lighting sucks, the toilet
and bathtub are even ugly. We've done some minor improvements like removed the brass shower door, painted, swapped out shutters for a curtain and replaced the shower head but
beyond that… there's just no helping this old girl. I was going through
our walk-through photos recently and found this picture of the old
bathroom… amazing; that's Eleanor on my back and Oliver is about 3 months away from delivery!
Because there's no real storage in the bathroom, we use this old tower
shelf to hold our towels. It's fine, but it's well… it's as Ikea as
they come.
I had a vision for this shelf. A vision that took a few false starts,
but ultimately, I'm good with the finished product. I think. And if I
change my mind in a few weeks… I'll bust out a can of white paint or
just head to Ikea with $20. I'm mildly obsessed with reclaimed wood
planked walls. We don't have any obvious walls in this house that I can
plank (yet!) but I liked the idea of maybe bringing some texture in and
'planking' these shelves. For example:
I was all set to hit up the Depot and get some wood cut to size, but…
this shelf is like 6 feet tall and 12″ deep so to cover the sides, I'd
need approx. 72 feet of wood. Even if I found something less than $1.00
per foot, that's still more than I wanted to spend just to experiment on
our bathroom shelving! Wanna know what's 12″ long, about an inch wide
and free? Paint stirrers.
Most paint places are pretty generous with their paint stirrers if you
ask, and it only took me 3 paint stores to collect enough to cover these
shelves! (I was actually buying something at all of these stores so I
didn't feel as awkward asking, but I'm sure they would have given me
some regardless…)
I used gorilla glue to stick these guys onto the shelf. There were a few
screw heads that I had work around, but I quickly drilled a hole in my
stirrers so they would fit. Don't judge, but here's my trick:
When the glue was dry, I used a gray Minwax stain. The stain set
differently from stirrer to stirrer, but that rustic textured look was
what I was going for.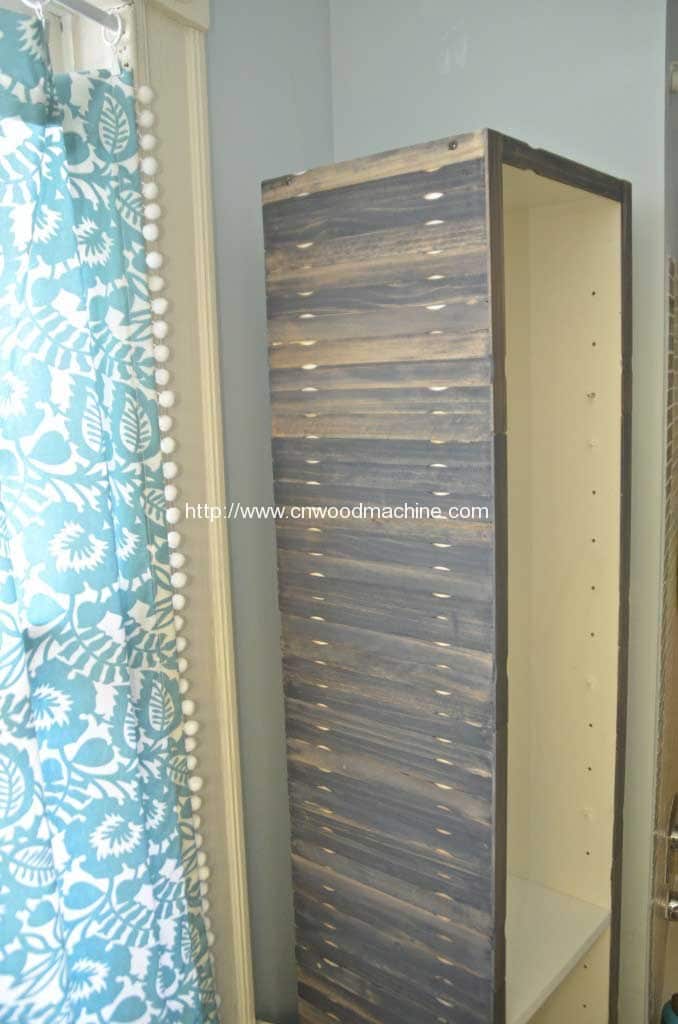 Next, I went back over the shelves with a white wash like I did for this project. Lastly, I grabbed some leftover Annie Sloan chalk paint and a dry brush to bring in some age and some color.
This was the point where I was sort of regretting the whole thing. It
was pretty much what I'd envisioned, but I didn't love it. Maybe the
paint stirrers weren't substantial enough? Who knows… It looked a little
too home ec for my liking. I was wishing I'd taken the time to stain
individual stirrers and create a fun herringbone pattern or something.
I was all set to just paint the whole thing white when, I figured why
not go back over with some painter's tape and give the whole thing one
last go of it. Like trouser pants with an elastic ankle, I keep trying
to make them work.
Paint-Stick[/caption] Paint-Stick